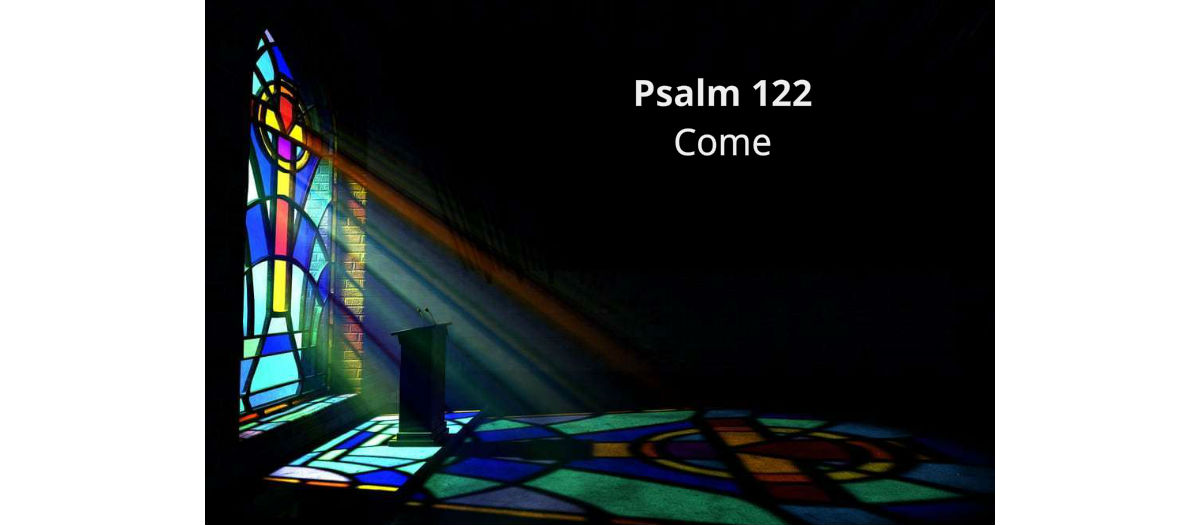 Psalm 122: Come
by Pastor Dave Katsma on
May 23, 2020
Psalm of Ascent: Come
MarshView Ministries
Psalm 122
May 24, 2020
The Psalm that we are looking at today is Psalm 122. It is one of the psalms that declare a time of victory.
What strikes me about this chapter is the opening verses and as we anticipate coming back to in person worship services there is probably no better verses than these.
First the Psalmist draws our attention to this:
Privilegeof Praise
"I was glad when they said to me,
"Let us go to the house of the Lord."
And now here we are,
standing inside your gates, O Jerusalem." (vs 1-2)
One of the things that I have heard a few time during the past couple of months was how much people miss gathering together to celebrate and worship as a congregation. I have heard people say that before all this, that they really didn't understand how much they appreciated going to church. But when we couldn't gather, the realized the loss more than ever.
When there is a freedom to choose to worship together, maybe we don't appreciate it as much because other things come up and we go, We say, "well will go next week." But now that we can't gather, there is definitely a sense of loss for the past 2 months that maybe awaked our sense of a need to gather together for corporate worship.
Maybe that is one of the mixed blessings that we need to walk away from with this all. That we find anticipation in joining together for worship and for hearing God's word. Maybe it is too easy to just take gathering for worship for granted. When something is so available, it can become routine or optional. But when it isn't easy or when we can't we can feel more the intensity of the loss.
I would like to read from a devotional from "Our Daily Bread" from October 20th, 1996
about the Christians in Eastern Europe.
It was late winter in Kishnau, Moldova, a city near the Romanian border in what was formerly a part of the Soviet Union. "Uncle Charlie" VanderMeer, director of Children's Bible Hour, was visiting the city to encourage Christian workers and to tell children about Jesus Christ.
Another cold Sunday didn't deter the Christians in Kishnau. They turned out in force – 1,500 strong – to worship at a church built 10 years earlier during strong communist persecution. According to VanderMeer, of all those who attended, only 20 or 25 arrived in cars. The rest either walked in the snow (some as far as 3 or 4 miles) or took public transportation. Some had to change buses up to five times. Then they did it all over again for the evening service. Amazed at the dedication of these people, Uncle Charlie wondered, "Would we go to church if we had to do that?"
When the pilgrims made their way to Jerusalem, it was a time of anticipation because it wasn't easy for them to make that journey, it was probably for most of the people a once a year and at great cost and difficulty but it was a special privilege for them to make that significant journey.
If there is one thing that I hope we all glean from our experience with the shutdown is that we gain a deep appreciation for gathering together as a worshipping community ad that we have this wonderful privilege of praise.
That leads us to the second aspect of the Psalm

Jerusalem is a well-built city;
its seamless walls cannot be breached.
All the tribes of Israel—the Lord's people—
make their pilgrimage here.
They come to give thanks to the name of the Lord,
as the law requires of Israel.
Here stand the thrones where judgment is given,
the thrones of the dynasty of David." (vs 3-5)
I have to admit that when I was going over this section, it seemed to me to be difficult to put a context to it for our own time and day.
I want to note a couple of things.
In verse 4 where it says, "all the tribes of Israel, the Lord's people, make their pilgrimage here."
The history of Israel's tribes were one of conflict more than brotherly love. Between there twelve brothers, we see in Genesis was that there was always sibling rivalry. As brothers developed families and developed into tribes that we see this tribalism, this sense of tribalism affected much of their sense of who they were. They were the 12 tribes of Israel, but 12 tribes with distinct allotments of land and territory. A quick reading of the Old Testament would show just how they saw themselves more as tribes than a unified nation.
Evangelist and Pastor Charles Spurgeon write this in his message, ""Note that Israel was one people, but yet it was in a sense divided by the mere surface distinction of tribes; and this may be a lesson to us that all Christendom is essentially one, though from various causes we are divided into tribes. Let us as much as possible sink the tribal individuality in the national unity, so that the church may be many waves, but one sea; many branches, but one tree; many members, but one body." (Spurgeon)
Christians today needs to note this. We have so many denominations and so many types of churches, from Reformed to Pentecostal from mainline to independent, from Catholic to Congregationalist, that so often in Christianity we define ourselves not as a follower of Christ, but as a Catholic, or Lutheran, or Assembly of God.
I know why, by labelling ourselves it is easy to get a picture into someone's mind how we fit into the big picture of Christianity. It is a way that we identify ourselves. I get that. But we also use that to set ourselves apart from each other too, to create wall of distinction but also division within the body of Christ. I know that we have various that we practice our Christianity and I know that there are various ways that we understand the faith, but for the majority of Christians 90% of what we believe is more common than different.
The second part of these few verses are found in verse 4 is this,
"They come to give thanks to the name of the Lord,as the law requires of Israel." (vs 4)
The central focus of coming to worship is to "give thanks". The following phrase might throw you off a little, as the law requires. That second phrase sounds rather legalistic in our eyes. That they come just out of duty or because the law says they have too. But that the law of God gave them the structure and the opportunity to come and the law of God was given as a way to live our gratitude toward God for all the good things that the people had received from God. The focus of their pilgrimage was to give thanks, rather than to ask things of God. The pilgrimage was a time of celebration, recognizing God's blessings not what they want.
There is within all of us a tendency to see more of what we want, than what we already have. When we focus on our wants, we have a tendency to place ourselves first and foremost. We can become not only a little self-focused, but also blind to the needs of others when we come with what we want. In some ways that can create division rather than unity, because there will always be someone who had different wants than us and sometimes those wants not only differ but are contrary to each other. When our wants are the focus, it can be to the detriment of our unity ,rather than bringing unity.
But when we come with thanksgiving our perspective is different, we come with our focus on God and what He has given us rather than what we want from Him.
And last the Psalmist highlight this.
"Pray for peace in Jerusalem.
May all who love this city prosper.
O Jerusalem, may there be peace within your walls
and prosperity in your palaces.
For the sake of my family and friends, I will say,
"May you have peace."
For the sake of the house of the Lord our God,
I will seek what is best for you, O Jerusalem." Psalm 122
In these remaining few verses, the focus is on peace and the results of peace, prosperity.
The words that are used are "shalom" for peace, it means wholeness and well-being not just a lack of conflict.
And the word for prosperity is "shalav" means to be secure or to be in safety or to be successful. So it's not the meaning of prosperity that we often think about when we hear the word prosper.
If the church is the place of peace, it sends a resounding message to the world that Christianity offers something to the world that the world cannot on its own ever achieve. Everlasting peace.
This is reflected in the prophecy of Isaiah in the Old Testament in Isaiah 2:1-3 it says,
"In the last days, the mountain of the Lord's house
will be the highest of all—
the most important place on earth.
It will be raised above the other hills,
and people from all over the world will stream there to worship.
People from many nations will come and say,
"Come, let us go up to the mountain of the Lord,
to the house of Jacob's God.
There he will teach us his ways,
and we will walk in his paths."
For the Lord's teaching will go out from Zion;
his word will go out from Jerusalem." Isaiah 2:1-3
Our witness to the world is how we worship, how we pray for the witness of our church, for the church for the nation in which we live and the world in which we live.
Is our coming to worship a wonderful and powerful experience for us, yes, but it is my prayer that at this moment in history as we examine our own heart and devotion to worship, that it is a powerful message to the world that will not go un noticed. And that the nations will be blessed because of our gratitude and faithful devotion to a lifestyle of worshipping Christ.
back