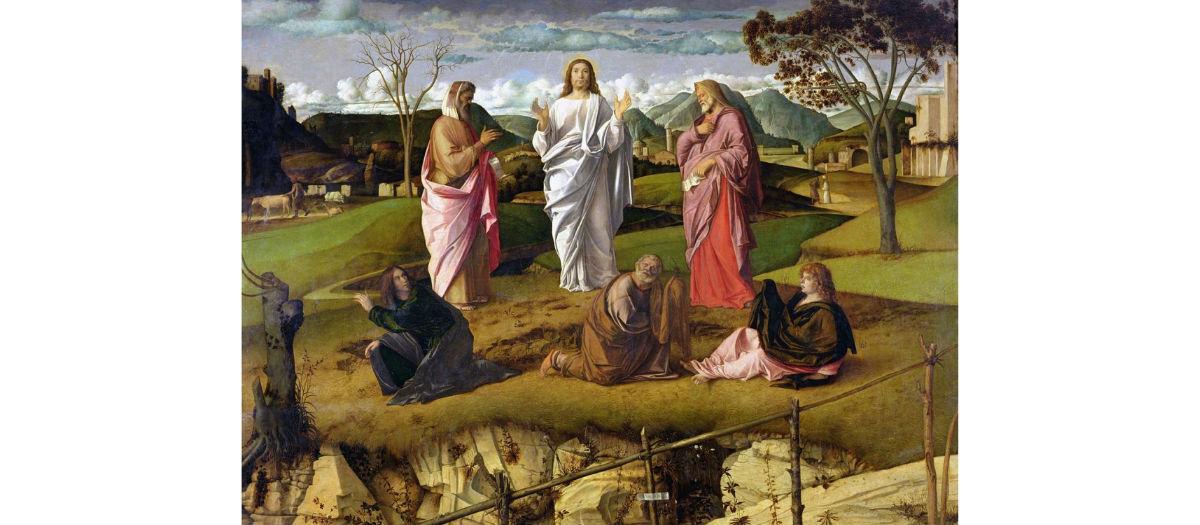 A Glimpse of Glory
by Pastor Dave Katsma on
March 22, 2020
A Glimpse of Glory
As we approach Easter, we have been looking at significant episodes in the life of Jesus that point us toward the cross and resurrection, the suffering and the exultation of Christ. One episode in the life of Christ gave Peter, James and John a glimpse into Christ's future glory on, what we call, the Mount of Transfiguration. It is at this moment in Christ's life where the disciples had the opportunity to see the "fullness" of Christ. They had seen Christ as a human, here for a moment, the separation between heaven and earth became united and the disciples saw Jesus as who he fully was, the God/man Jesus Christ.
As the disciples faced uncertain times in the near future, I am sure this moment for these three disciples reminded them of the wonder, the majesty and the glory of the one they called both Savior and friend.
If you already haven't, I invite you to listen to or watch the message on the message page of this website. I have included the outline here in this blog for you to see the biblical references.
A Glimpse into Glory
Luke 9:21-36
MarshView Ministries
Sunday, March 22, 2020
"Jesus warned his disciples not to tell anyone who he was. 22 "The Son of Man must suffer many terrible things," he said. "He will be rejected by the elders, the leading priests, and the teachers of religious law. He will be killed, but on the third day he will be raised from the dead…..I tell you the truth, some standing here right now will not die before they see the Kingdom of God." Luke 9:21-22, 27
"About eight days later Jesus took Peter, John, and James up on a mountain to pray. 29 And as he was praying, the appearance of his face was transformed, and his clothes became dazzling white. 30 Suddenly, two men, Moses and Elijah, appeared and began talking with Jesus. 31 They were glorious to see. And they were speaking about his exodus from this world, which was about to be fulfilled in Jerusalem.
32 Peter and the others had fallen asleep. When they woke up, they saw Jesus' glory and the two men standing with him. 33 As Moses and Elijah were starting to leave, Peter, not even knowing what he was saying, blurted out, "Master, it's wonderful for us to be here! Let's make three shelters as memorials—one for you, one for Moses, and one for Elijah." 34 But even as he was saying this, a cloud overshadowed them, and terror gripped them as the cloud covered them.
35 Then a voice from the cloud said, "This is my Son, my Chosen One. Listen to him."36 When the voice finished, Jesus was there alone. They didn't tell anyone at that time what they had seen." Luke 9:21-36
Jesus' DIVINITY was affirmed.
"For we were not making up clever stories when we told you about the powerful coming of our Lord Jesus Christ. We saw his majestic splendor with our own eyes 17 when he received honor and glory from God the Father. The voice from the majestic glory of God said to him, "This is my dearly loved Son, who brings me great joy." 18 We ourselves heard that voice from heaven when we were with him on the holy mountain." 2 Peter 1:16-18
"Now faith is confidence in what we hope for and assurance about what we do not see." Hebrews 11:1
"Then Jesus told him, "You believe because you have seen me. Blessed are those who believe without seeing me." John 20:29
Jesus' AUTHORITY is confirmed.
"In the past God spoke to our ancestors through the prophets at many times and in various ways, 2 but in these last days he has spoken to us by his Son, whom he appointed heir of all things, and through whom also he made the universe." Hebrews 1:1-2
Jesus' future GLORY is assured.
"And we have seen his glory, the glory of the Father's one and only Son." John 1:14
"For our present troubles are small and won't last very long. Yet they produce for us a glory that vastly outweighs them and will last forever!" 2 Corinthians 4:17
* Scripture references taken from the New Living Translation.
back